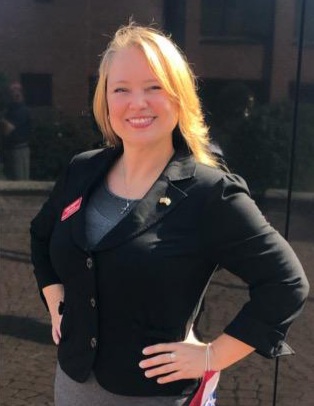 About the Clerk
Meet April Daniels, Ashtabula County Clerk of Courts
April recently married her best friend Joe Daniels. When she did so, she also became the proud Bonus Mom of a curious, active, wonderful little boy. Her favorite pastime is spending time with her family outdoors gardening, fishing, and riding ATV's along with her Black Lab – Charlie, get it? Charlie Daniels!
April has been called a "mild mannered accountant by day, and a dutiful public servant by night." This is contributed to her day jobs being math and technology based, followed by her community service endeavors in the afternoons and evenings. She maintains that she has been preparing for this position her entire life. Accounting, Retail, Car Cleaning, Radiology, Computers… As Joan Watson on the TV show Elementary put it, "I know it all sounds meandering as I describe it, but I assure you that it felt organic as it was actually happening." Each chapter in her life led her to experience and knowledge in management, customer service, technology, record keeping and, ultimately, the position of Clerk of Courts.
She holds degrees from The University of Washington and Kent State University. Her education in Accounting and Business Administration reinforces her wide range of qualifications including efficient money handling protocols, information technology, and accurate record documentation. Though she has an impeccable understanding of practical financial reporting policies, attention to detail, and managing resources wisely, her skills are matched, if not exceeded, by her faith in God, kindness to others, and commitment to her community.
Prior to becoming Clerk, April served as the fiscal officer for ACCOA, directed a modest charity, and owned a local business. She was elected as the Clerk of Courts in 2020 and took office in January of 2021. That same year, she boldly changed her name from Mariotti to Daniels to take her husband's name. She also served as an elected official on Jefferson Village Council under her former name. While on Council, as the Forestry Chairwoman, she was coined as a "Tree Hugging Conservative" due to her commitment to both economics and the environment. This concept inspired her to initiate an Electronic Filing system to protect our natural resources, better serve the constituents of Ashtabula County, and save money on paper products.
Her biggest agenda is to help the public understand what the Clerk's role is in the County. It is often confused with the Auditor or the Treasurer. "It is not a glamorous, nor controversial position, but important to say the least. The 'Ashtabula County Clerk of Courts for Common Pleas' is responsible for more than just Court Records. We take care of Certified Titles for automobiles and water craft, Naturalization Records, and processing Passports too."